Richard M. Gordon & Associates, P.C.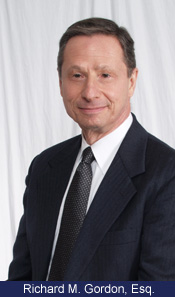 Richard M. Gordon has practiced law since 1974 and is an accomplished and well-respected attorney. Mr. Gordon has focused areas of practice and has decades of experience in matrimonial and family law, civil litigation, real estate matters, commercial transactions, wills and estates, and personal injury. Earlier in his career, he was in a three member law firm partnership practicing in several disciplines of law. After the retirement of his partners, Mr. Gordon continued the practice of the firm. Over the course of his career, Mr. Gordon has represented people with diverse backgrounds and occupations, including judges and attorneys. Mr. Gordon remains dedicated to provide the highest level of professional care, attention, and service.
Through years of experience, Mr. Gordon is able to analyze and evaluate the merits of your case, explain it to you with clarity, and follow strategies which will result in an effective, efficient, and practical resolution of your case. His case preparation is meticulous and he is attentive and responsive to your personal needs. Whether you are an individual, owner of a business, or conduct a professional practice, Mr. Gordon will provide representation tailored to your particular needs.
Mr. Gordon is a member of the New York State Bar Association, the Suffolk County Bar Association and its Matrimonial Committee, and the Nassau County Bar Association.
* We offer one, in-office, free consultation to all prospective clients. Please contact us *