Corporate and Business Law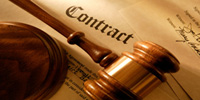 Business law matters include a full range of legal services, including the determination of the proper type of business entity and its legal formation, partnership agreements, shareholder agreements, operating agreements, contractual matters, employment agreements, purchase and sale agreements, etc. It is crucial to have well-crafted documents which properly state respective rights, duties, and obligations. The goal of being an entrepreneur is to have a successful business, earn a profit, minimize legal risks, and avoid litigation. Diligence and careful attention to detail with effective legal counsel will serve your best interests and foster success in business.
Purchase and Sale of a Business

There are many components and considerations in a transaction to sell or acquire an existing business. It is fundamental to investigate the financial status of a business and the assistance of an accountant is recommended. Usually, the physical location of the business is a significant factor to its success; therefore, resolving longevity of the business location through lease or ownership of the real property is critical.
The assets being transferred must be clearly identified, their condition and good working order confirmed, and freedom from liens and encumbrances verified. Close consideration must be given to matters such as existing and continued advertising, transfer of telephone numbers and websites, continuity of suppliers, confidentiality of the transaction, non-competition by the seller, tax allocation of the purchase price, confirmation of no pending or threatened lawsuits or violations of statutes, codes or regulations, etc. Since most business sales are seller-financed, there are significant considerations for the terms of the promissory note, personal guarantees, security agreements covering the assets sold, and other ancillary components of financing.
Please call for a free consultation.