Civil Litigation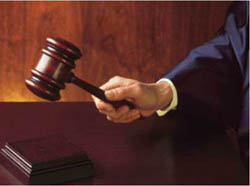 Richard M. Gordon & Associates, P.C. offers comprehensive, sophisticated, and skilled legal experience in handling matters which are litigated in court, submitted to mediation or arbitration, or are being appealed to a higher court. Whether the matter involves matrimonial and family law, commercial disputes, real estate matters, personal injury, or property loss, estate issues, or other civil litigation, you will receive diligent and highly competent representation. Each matter is given thoughtful and careful analysis and a reasoned and practical approach is formulated to reach a fair resolution.
Litigation is costly both emotionally and financially and no one wants to be involved in protracted and expensive court proceedings. The best approach is to strive for a fair and reasonable settlement of your dispute, but if that is not attainable, then you must have the best possible preparation and representation to win in court. Most importantly, you must be kept informed and advised of your standing in any contested matter and be an integral part in the strategy and decision-making process regarding the efficient and effective resolution of your case. Mr. Gordon takes great pride in communicating and working closely with his clients.

Anatomy of a Lawsuit

A lawsuit is commenced by the filing and service of a summons and complaint. The defendant must interpose a written answer, which may include affirmative defenses and counterclaims. Thereafter, the parties can pursue discovery and disclosure, which include the exchange of documents and pre-trial testimony through depositions. Through the course of the litigation, motions may be made for interim relief as each party deems necessary. The parties are required to periodically appear before the assigned Judge to follow the status of the lawsuit and compliance with court directives. Once pre-trial procedures are completed, the matter is certified for trial and will be tried by either a judge or a jury, depending on the election of the litigants.
Please call for a free consultation.