Wills and Estates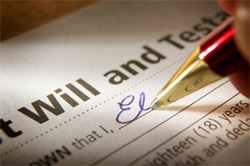 Estate Planning
Planning is the key. You must have a plan to distribute the assets of your estate, designate guardians for your children, and select an Executor. Otherwise, these vital matters will be decided by the Judge of the Surrogate's Court, regardless of your wishes. Depending on your objectives, planning will require either a Last Will and Testament or a Trust. Without such advance planning and clear directives, your estate may be caught in unnecessary delays, court procedures, estate taxes, and unwarranted expenses. More significantly, your assets may be distributed in a way unacceptable to you. Lack of planning will leave your family in a difficult and confused situation.
In the event you are unable to care for yourself, providing for your well-being is as important as planning for your estate. It is essential to have a power of attorney designating an agent you trust to handle your affairs should you become disabled or incompetent. Without a power of attorney, it will be necessary to have time-consuming and expensive court proceedings in order to have a guardian appointed for you by a Judge. You must also plan for someone to carry out your wishes concerning medical care and treatment if you are unable to voice those decisions on your own behalf. These concerns are addressed in a Health Care Proxy and a Living Will.
Estate Administration
Upon the death of a loved one, the assets of the estate must be located, managed, and ultimately distributed. The executor designated in the Last Will and Testament will undertake the process to probate the Will through the Surrogate's Court, and thereafter handle the administration of the estate and fulfill the directives in the Will. If the decedent dies intestate, that is, without a valid Will, then the Surrogate's Court appoints an administrator to handle the estate. The executor or administrator must gather and protect all of the probate assets, pay all of the expenses of the estate, file estate tax returns, pay the estate tax, and distribute the remaining assets to the beneficiaries. The task may appear to be daunting and overwhelming, especially coupled with the grief from your loss of a loved one, but with the able and proper guidance of counsel, it will be well-handled and resolved. The duties of an estate representative are time-consuming and challenging; thus, it is important to receive competent and compassionate guidance and assistance through this process.
Please call for a free consultation.