Divorce Law / Matrimonial Law / Family Law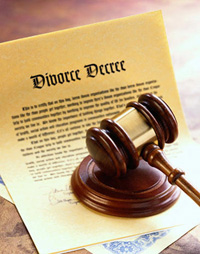 There can be no more personal, intimate, and all-encompassing impact on your life than the dissolution of your marriage. It affects your family life, contact with your children, your income, assets, retirement, and your future. It occupies your every thought and causes concern and anxiety as to how you will survive the process.
It is essential that you are guided and supported with personal attention by experienced counsel. Mr. Gordon handles every case personally from the beginning to the end, and does not assign it to someone with less experience or unfamiliar with your matter. Mr. Gordon takes great pride in remaining available to his clients and maintaining excellent contact and communication. You are continually provided with vital information and are kept apprised of the status of your case. Of most importance, Mr. Gordon promptly responds to your telephone calls and written correspondence.
You deserve and will receive attentive, personalized, and cost-effective representation to protect your interests. Most cases can and should be resolved through reasonable negotiations, but in the event that cannot be accomplished, Mr. Gordon will represent you aggressively in court proceedings, while striving to resolve the process at reasonable cost.
Mr. Gordon does not make personal and financial decisions for you, but arms you with information, strategies, and guidance toward an effective result. No one truly "wins" or "loses" in a divorce case; the goal is to find a reasonable solution and, most importantly, closure.
Pre-Nuptial and Post-Nuptial Agreements

Pre-nuptial agreements, which occur before you are married, and Post-nuptial agreements, which are arrived at after you are married, are designed to address all of the issues which may arise in the event of the dissolution of your marriage, or upon the death of a spouse during the marriage. Such agreements can be limited to certain key issues, or can be comprehensive and inclusive of all subject matter. The terms of these agreements can be discussed in a calm, thoughtful, and rational manner, without pressure, and important issues can be resolved on an amicable basis.
Please call for a free consultation.